10 minutes Snatch practice.
10 minute AMRAP of:
30 Double-Unders
15 Power Snatches 75/55#
This is an open WOD from 2011.  If you completed that WOD, go back and see how you did.  Also, follow the links below to learn some new warm up ideas. 
Hit and Catch drill pt 2
http://www.youtube.com/watch?v=cJWgFx6EEZw&feature=related
Chest Bump Drill *this will help you guide the bar back and behind you in that good receiving position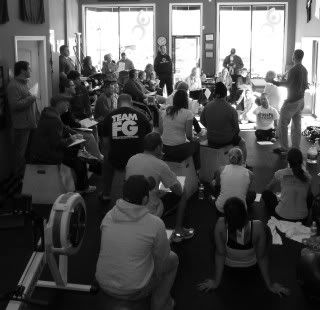 Be on the look out for Richard Bradford from Pre-Made Paleo to come share his products with the community. We are stoked to have his services available for us to ensure good nutrition for our bodies!