I had finally found out why I had gained almost ten pounds overnight, why I needed to nap every day, and why I was always cold.
The doctor had confirmed what I had already suspected. I had hypothyroidism. After reading all I could find on the internet, I was starting to feel hopeless about losing any weight. The condition itself could be treated medically, BUT weight loss was not typical w/ hypothyroidism.
I was determined to find a way (even though from what I had read, most hadn't). So, there I was at "globo gym" #3 (3rd in 5 years). This time, I thought, my friends were there to support me and I'll have fun while getting into shape. Like most women, I wanted to be stronger, lose weight and just plain "feel good". I had just completed a marathon training program several months prior and despite that accomplishment, I was still slightly overweight and would get easily winded from just a simple flight of stairs.
This just didn't make any sense to me. So, I dedicated that month to working out 4-5 days a week and eating well. All of this to lose only ½ inch and no weight whatsoever!! I couldn't believe that all of that hard work merited a loss of only a half inch! I was starting to believe everything I had read on the blogs. Maybe they were right. I wasn't going to lose any weight and possibly even gain weight, even with medication.
Meanwhile a close friend, (who happens to now be a trainer at No Excuses), kept insisting that I try Crossfit "come in for a day and try it out". From the way she described the program I wasn't sure if I could do this whole "body building thing". While I was making these excuses, I couldn't help but notice how strong SHE was looking after only 3 short months. At her 40th birthday party I was able to meet some of the other trainers and Kyle Maynard himself (owner of No Excuses Athletics).
All of these individuals with a story of their own. Each a walking billboard that this concept "works". So I found myself at the gym one morning at 9am. I was going to do my first workout. Ten minutes. That's all. It was ten minutes I would never forget! Wow! I was nowhere near the level of fitness I thought I had! Even with a month of steady training, having just completed a marathon several months prior and now beginning to train for a triathlon!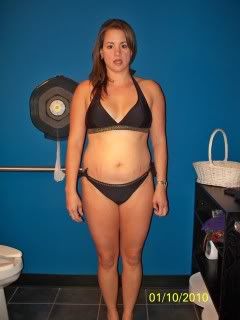 I decided ok, I'll try this for a month and see how it goes. And I'm not going to lie, day after day, I was sore everywhere, even places I didn't know I had muscle. This was tough, but I was starting to see some light at the end of the tunnel. Slowly, I was gaining energy, strength and my waistline was starting to shrink. I decided at that point that I was going to monitor inches lost and not pounds. I would be doing myself a huge disservice if I didn't seriously think I was going to be gaining muscle mass doing this exercise at that level of intensity.
After the first month, I lost 4.75 inches! Needless to say, I was psyched and I was IN!! I had not yet committed to eating Paleo style but had been told that Crossfit was great and I would make progress, BUT Crossfit and Paleo together…I would "Kill It"! This kept playing over and over in my head.
On a routine doctor visit, I came to discover that my blood pressure was in a pre-hypertensive state. My MD asked me to drop ten pounds and check my blood pressure daily for the next month and then handed me a prescription. I told him I was too young, at 39, to have to deal with high blood pressure too even though in the back of my mind I knew my dad suffered his first heart attack at 40.
I ripped the prescription up while in my car because I knew that very conveniently, Crossfit was to begin a new Paleo challenge in just two weeks. Well, now I guess I have to do it! Here I was posing for my before pictures, writing a food journal and doing lots of healthy grocery shopping. One of the things I noticed right away was how different my refrigerator looked. Where it was once filled with "junk" food and lots of non-natural foods loaded with preservatives, it was now bright and colorful with fresh fruits and vegetables and all sorts of lean meats and the sort. Much to my amazement, since Day 3 on the challenge, I have had all normal blood pressure readings.
Through prayer and trainer/colleague support I've lost an additional 3.25 inches at the halfway mark of this challenge. All told, since August of 2009, I've lost a total of 9.5 inches and 10 pounds. I can't wait to see what else is in store for me. My outlook on life has changed and I have this new attitude that I CAN do anything! I have new goals that I never would have thought possible a year ago. I awaken everyday with an excitement about what my day will bring and what is becoming of me as I enter the gym!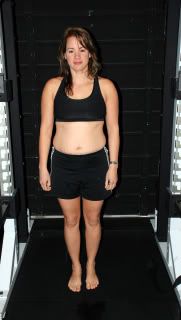 How about you? Are you ready for a challenge? Are your ready to change your life?
"Globo-Gym Results"
6/23/09-8/2/09
(going to the gym 4-5X week
and eating reasonably well)
Current Weight-158.5
5″6, female
No weight loss
1/2″ lost
"Crossfit Results"
8/19/09-9/2/09
lost 1 lb. and lost 2.75″
Note:Started training for a triathalon (1x week bike, swim & run.
Crossfit 3x week)
10/2/09
gained 4lbs. (Not following a healthy diet) but lost 2″
Completed triathalon on 10/4
10/23/09
lost 3.5 lbs. and lost .25″
10/30/09
lost 4.5lbs. and lost 1.0″
Experimented with Paleo for just 1 week
12/11/09
lost 3lbs. and lost 4.75″
No special eating plan at this point
12/11/09-1/11/10
Ate horribly throught the holidays and gained 4 lbs and added 3.5″.
Began crossfiting 4-5 times per week.
1/11/10
Gym began Paleo challenge!!
Current Weight:157.5lbs.
Wearing some size 12's and 10's
1/2 Way Mark-2/4/10
lost 6.0lbs and lost -3.25″
End of Challenge-3/1/10
lost 1.5lbs. and added .25″
Totals
lost 8.5lb and 3″ lost.
Current Weight-150lbs
Size 10's and 8's now.
Note: This is NOT REALLY the end of the challenge for me. I'm still actively eating paleo. It really has become a lifestyle. I invested so much time eating right, planning meals,etc, that at this point there is no way I'm going to throw away all the hard work I put into it. I feel great and look better than I have in a long time.This is the way it should be done. I have a journey ahead of me. I have not yet decided what my target weight will be. One thing I am sure of, is that I will not stop until I like what I see in the mirror. So long as I incorporate Crossfit and Eating Right..I will succeed.